Vaught-Hemingway Stadium Seating Chart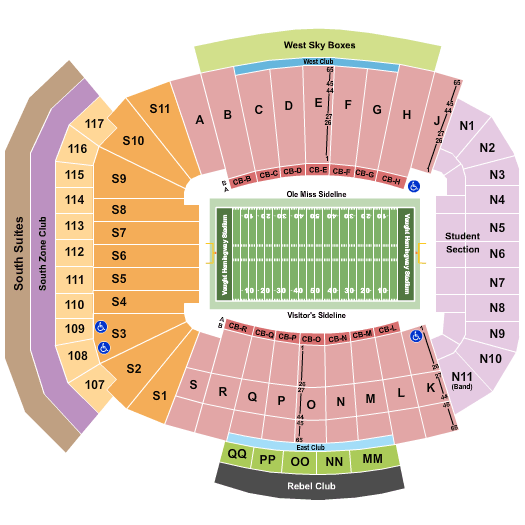 NOTE: Seating configurations can change depending on the type of event. Always check the individual event seating chart when selecting your tickets.
Vaught-Hemingway Stadium is shaped into a bowl which means seats are allocated following North, South, East, and West Directions. Most of the chairs in this stadium are bleacher seats, however, patrons can contact Ole Miss for chairback rentals or bring their own. As a reminder, chairback seats are not to be larger than 16".
The entire North area is allocated for students of the University of Mississippi. Where else visiting fans seats are allocated on West side Section 11 and on the East Side Section S1, S, and K. The entire Southside and Upper West side are allocated for club seats and boxes.
The best seats for Rebels fans would definitely be the sideline chairbacks sections. However, these seats come with a premium price. For those with a tighter budget, we would suggest for you to choose seats in Sections C-F, P, O, and N. These seats are right behind the Sideline Chairbacks. Additionally, choose rows 1-10 for the best views if possible.
Secure your seat today by purchasing your tickets. Visit the Vaught-Hemingway Stadium schedule to get started.
To view the ticket & refund policy please read the ticket information page.